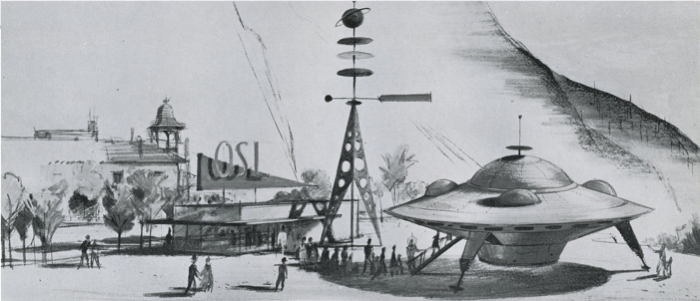 Despite a sizable investor count and public stock offering, Magic Mountain suffered financial losses and not all of its creators' dreams came true. Above is the artists' conception for the proposed Outer Space Lines ride at Magic Mountain. This ride was designed to simulate a supersonic flight in outer space. It was to be one of a number of educational and thrill rides at Magic Mountain, one of which, the Forest River Ride depicting mountain trappers, did make it to reality at the southwest part of the park. There was planned to be much more: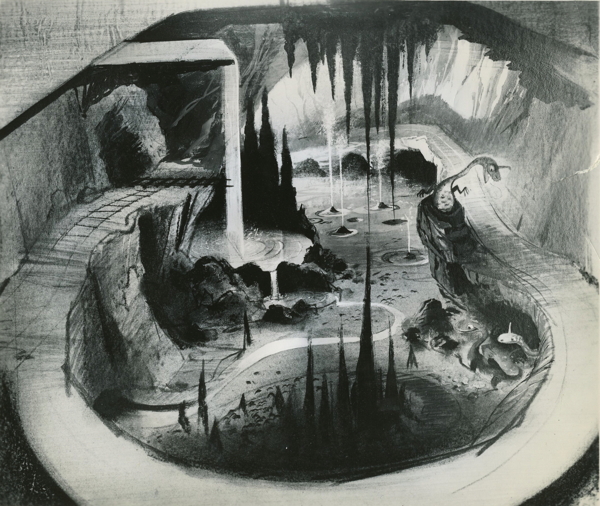 Magic Mine Ride, 44 years before "Lord of the Rings"
"At the edge of Magic Mountain Village, it is planned to have a Fairgrounds, much the same as every Western Town had its own fairgrounds area, where families met for picnics and entertainment. In the Magic Mountain Fairgrounds, plans call for various types of amusement facilities, such as a "Mine Ride" and "The Creation of the Earth Ride". All such rides will have authenticity and educational concepts as their underlying theme.
Land of the Dinosaurs, 36 years before "Jurassic Park"
Included in the plans for Magic Mountain are areas for such things as: a river ride, that will tell the story of early-day fur trappers and the experiences they had on the Colorado River; a Magic of Industry exposition, telling the story of a century of progress in the West; a "Storybook lane" for the younger set; a full scale narrow gauge railroad circling the entire park; and an authentic reproduction of the Cherrylyne horse-drawn streetcar that used to operate between Denver and Englewood."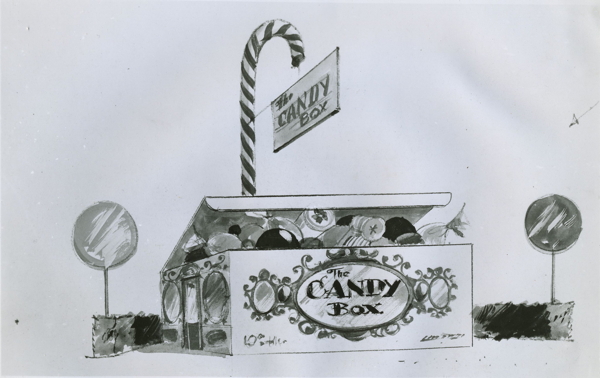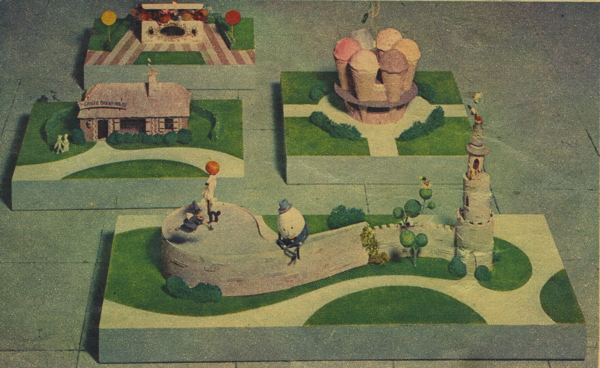 Storybook Lane, based on fairy tales and folk stories, had a number of attractions including concessions of a candy box, ice cream stand, and gingerbread house. It entrance was a 40-foot-tall Paul Bunyan, and inside, to be topped by a castle, was a natural red rock formation called Big Rock Candy Mountain. Humpy Dumpty, "animated in a continual state of uncertainty", greeted the kids inside the entrance. Storybook Lane was designed as an attraction for children up to age 8.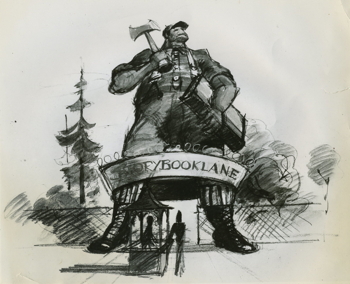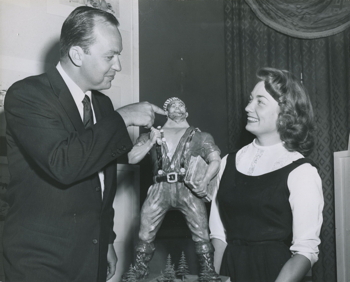 Original artistic concept, and C.V. Wood showing model of Paul Bunyan
Some dreams, however, did become reality, if by taking the scenic route to fruition. The Magic Mountain Ski Area, to be placed on the north side of Apex Gulch, was to be accessible from a chairlift starting from a castle high atop Big Rock Candy Mountain. Foothills Skiing Corporation entered a lease on January 16, 1959, and the ski area truly materialized, offering nighttime skiiing under the floodlights and being the second in North America to produce artificial snow. Two 1,000-foot rope tows carried skiers and the place offered a warming shelter and snack bar. Magic Mountain Ski Area was successful; unfortunately Magic Mountain itself was not, and it took the ski area down with it in 1960. The ski equipment was moved to the new Ski Broadmoor at Colorado Springs, a longer-lived endeavor of front range skiing.
Another plan that became an eventual reality was the race track, where visitors could get in small cars and race them on a winding track themselves. Planned in Magic Mountain at its northeast edge, Heritage Square built such a track at its southeast edge. A large carousel, the historic Eden Palais, operated at Magic Mountain, which was taken away upon its closure, and carousel riding returned to Heritage Square in 1998. A chapel was also planned for Magic Mountain on the northern shores of the lake; Heritage Square moved a historic frame Lakewood schoolhouse over to what was once to be the entrance to the Fairgrounds, and it served as a wedding chapel for many years.
Magic Mountain, as great as it was planned, operated in ways for only 3 years, from 1957-60. It financially collapsed under the tenure of its second leader Allen J. Lefferdink, blamed by many for its demise. The park was forced into foreclosure, unable to pay for its own construction. Famed New York developer William Zeckendorf tried to save Magic Mountain, and Cobb himself made an 11th hour attempt, but soon developers and courts realized its fate was inexorable. Magic Mountain was auctioned off late in 1960.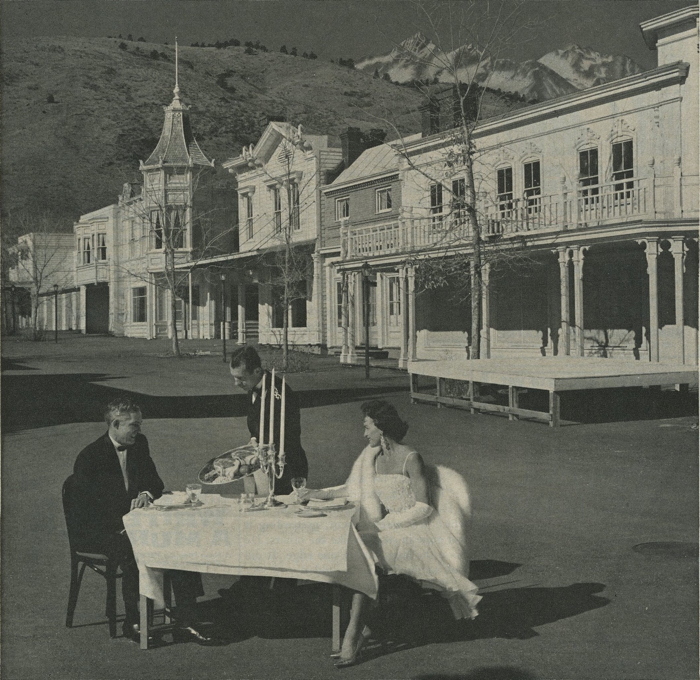 Above is a photo taken at the mothballed Magic Mountain in 1962, as an advertisement for Colorado Beef. It was made in commemoration of National Colorado Beef Month, January 1962, with clothing and accessories by Montaldo's, and service by the Brown Palace hotel. It would take 10 years before new owners successfully endeavored to open Magic Mountain again, and in 1971 the place was finally reborn and reopened by the Woodmoor Corporation as Heritage Square. Later on in 1973 upon historic Jackson Hill the second alpine slide built outside a ski resort in the United States was created. The Jefferson County Historical Commission designated Heritage Square one of its Centennial Sites for the Centennial/Bicentennial celebration in 1976, one of 25 places across the county honored as important pieces of its history for the state's centennial and nation's bicentennial.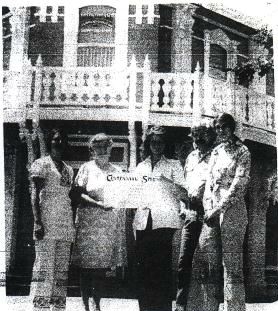 Today, here at Golden, our nation's second-oldest regional theme park, now half a century old, has operated for 44 years as Heritage Square, longer than most regional shopping malls of the Denver area. It stands as a testament to the earliest dreams and aspirations of America's theme parks. It is due to close, at least as Heritage Square, at the end of 2015, after which this historic place faces an unknown future.